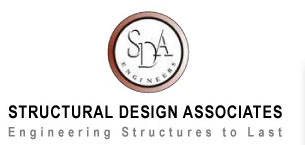 Structural Design Associates is a professional engineering company providing comprehensive structural engineering services for both residential and commercial projects. Our company believes in providing designs that are functional and economical, working together with our clients to develop complete solutions. Our principal is licensed as a professional engineer in Washington and our company is experienced in the structural engineering of single family residences, multi-family residences, concrete masonry buildings, concrete tilt-up structures, retention vaults, retaining walls, deep foundations, seismic retrofits, and more.

We have been sending projects to SDA for many years and have always had prompt responses
read more...


Community

Structural Design Associates takes pride in being an active member of the community and a generous supporter of music, art, education, and local parks. As a member of several service organizations, such as the Everett Chamber of Commerce and Rotary International, we are able to reach out to others and stay connected. As a growing company in a growing community, we enjoy being able to give back and positively affect the areas in which we live and work. Below are some current and recent projects that we have been involved in.

Adopt-A-Park Program

Structural Design Associates has adopted J.J. Hill Park, located at the corner of Hewitt Avenue and Broadway in downtown Everett. For the past 8 years, SDA has seasonally planted flowers, to beautify the city and keep the park in bloom.




City of Everett All American Fourth of July

Structural Design Associates generously donated to the Chamber of Commerce Ambassador's 4th of July Float Fund and helped sponsor the parade.