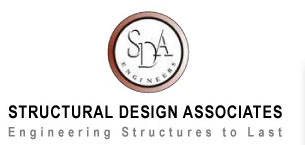 Structural Design Associates is a professional engineering company providing comprehensive structural engineering services for both residential and commercial projects. Our company believes in providing designs that are functional and economical, working together with our clients to develop complete solutions. Our principal is licensed as a professional engineer in Washington and our company is experienced in the structural engineering of single family residences, multi-family residences, concrete masonry buildings, concrete tilt-up structures, retention vaults, retaining walls, deep foundations, seismic retrofits, and more.

We have been sending projects to SDA for many years and have always had prompt responses
read more...


Our office is open from 8:00 am to 4:30 pm Monday through Friday, closed all major holidays. We can be reached by phone, or email during regular business hours. You may also stop by our office during regular hours to meet with an engineer. Our office is conveniently located in downtown Everett, on Rucker Avenue. Right next to the Snohomish Health district.
Structural Design Associates
3006 Rucker Ave.
Everett, WA 98201
Phone: 425.339.0293

Email: [email protected]