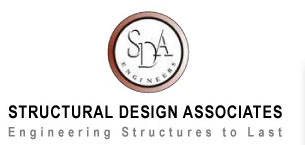 Structural Design Associates is a professional engineering company providing comprehensive structural engineering services for both residential and commercial projects. Our company believes in providing designs that are functional and economical, working together with our clients to develop complete solutions. Our principal is licensed as a professional engineer in Washington and our company is experienced in the structural engineering of single family residences, multi-family residences, concrete masonry buildings, concrete tilt-up structures, retention vaults, retaining walls, deep foundations, seismic retrofits, and more.

We have been sending projects to SDA for many years and have always had prompt responses
read more...

Chris Covington
Chris Covington is the owner and principal engineer of Structural Design Associates, a structural engineering firm established in 1998. Prior to pursuing structural engineering, Chris was a carpenter for 12-years and a member of Union 562.

Chris has over 16-years of engineering experience, having worked for several firms on a variety of structural projects from tilt up buildings to residential houses. Raised in a construction environment, he naturally progressed towards carpentry and then structural engineering. His unique combination of structural knowledge with a background of hands on experience allows him to create functional and well thought out designs.

Chris studied Civil Engineering at the University of Washington in Seattle and graduated with a bachelor's degree in 1989. He currently holds Professional Engineer's license in Washington, and is working towards his Structural Engineer's license.

Chris maintains active memberships in the ASCE and the SEAW. In addition, he is active in the local community as a member of the Downtown Everett Action Committee, the Everett Rotary, the Navy League, Campfire Board, the Everett Chamber of Commerce, and the Roslyn Chamber of Commerce. He is also a huge supporter of local sports as a member of the booster club for the Everett Silvertips and Everett Hawks. When he gets time away from work he enjoys gardening, home improvement projects, travel and sightseeing. He plans to make more time in the future so he can study the art of wine making and help with Rotary International.


Linne'a has always had a passion for how homes and buildings are designed, and enjoys having an engineering company in a growing community. She also enjoys working with a wide variety of people, everyone from professional builders to homeowners to friends and neighbors, and being able to answer their questions about structural projects and provide ideas about improving the structural integrity of their homes. Her favorite thing about her job is that it provides her the opportunity to reach out to young people and expose them to a profession that they may have not been aware of. Her career also provides her the opportunity to learn new things. Since receiving her bachelor's degree from Pacific Lutheran University and subsequently her doctorate from the University of Washington, Linne'a has continued her education with numerous courses, including regional conferences on earthquakes and design standards.